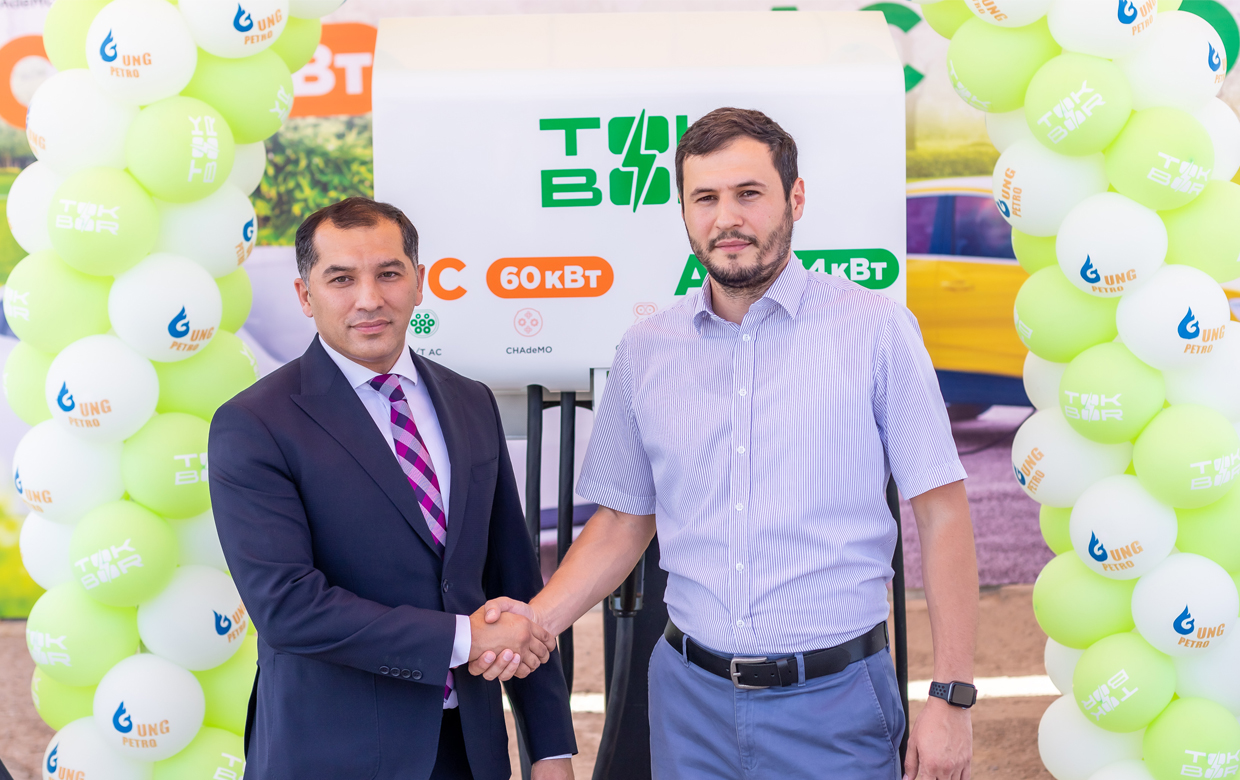 Another fast charging station for TokBor electric cars has appeared in Tashkent. Charging takes 15 minutes
Today, seeing an electric car on the roads of Uzbekistan is becoming the order of the day. For 4 months of this year, 156 electric vehicles were brought to Uzbekistan.
And, it is obvious that in the coming years their number will only increase due to the transformation of international auto concerns, as well as the domestic Uzavtosanoat, into the production of environmentally friendly cars. Of course, all this implies the creation and development of an appropriate infrastructure.
Tok Bor has opened the second fast charging station for electric cars in Tashkent. It is located at the gas station of the UNG Petro network in the Mirzo-Ulugbek district. Charging an electric car at a DC station will take 15-50 minutes. The first such complex appeared a month and a half ago on the territory of the BeFit Pro sports and recreation complex, which, according to the company's management, is in great demand.
"Since last year, our company has started to engage in electric vehicle charging stations. Among them are both our own stations and those installed by order of our partners. We understand that we cannot create conditions for drivers of electric vehicles throughout Uzbekistan. Therefore, we are open to cooperation, we offer a convenient partnership policy and ready-made turnkey solutions with minimal investment, and we, together with our partner UNG Petro, are pleased to present another fast charging station for electric cars," said Erkin Ruzmatov, director of Tok Bor.
The company offers its partners various variations of AC charging stations (slow ones - they charge an electric car in 2-4 hours) and direct current (fast ones - it takes 15-50 minutes to charge) current with different power from 2 to 240 kW.
According to Ruzmatov, a distinctive feature of these electric vehicle-charging stations is that almost all electric vehicles can be charged here.
"Different countries have their own standards, but cars are brought to us from all over the world. Given this, together with European partners, a station under the Tok Bor brand was developed that could charge electric cars of all manufacturers. Therefore, there are no such stations anywhere in Uzbekistan yet not all over the world" - he said.
Note that the control of such a station occurs through a mobile application. The entire work process is automated, so there is no need for personnel. The program on the smartphone will show where the stations are located, what connectors they have, whether the connector you need is free (it can also be booked), and after charging, payment will be made automatically from your balance.
"There is a presidential decree that provides for a gradual transition to a green economy. This is very relevant today, since their number is growing every year, people show concern for the environment, and we, in turn, are ready to support these aspirations by offering modern services. This is the first fast electric vehicle charging station in our network, but in the future we will, of course, develop this direction, we plan to equip other charging stations with stations. In particular, in the next two months they will appear at our facilities in Samarkand and Jizzakh," said UNG CEO Petro Mirzokhid Musaev.
To date, Tok Bor has already installed 15 charging complexes. Developing the first network of electric vehicle charging stations in Uzbekistan, the company is also implementing a contract with the Makro supermarket to install 20 AC charging stations. It is assumed that by the end of summer, charging stations will appear in the regional branches of the retail network.
The company also set out to expand this year the geography of the locations of its own stations both in Tashkent and in the regions. In particular, it is planned to create conditions for drivers of electric vehicles so that they can easily move to Samarkand and the Fergana Valley.
Link to the article: https://podrobno.uz/cat/obchestvo/v-tashkente-poyavilas-eshche-odna-stantsiya-bystroy-zaryadki-elektrokarov-tokbor-zaryadka-zaymet-ot-/
<< Back