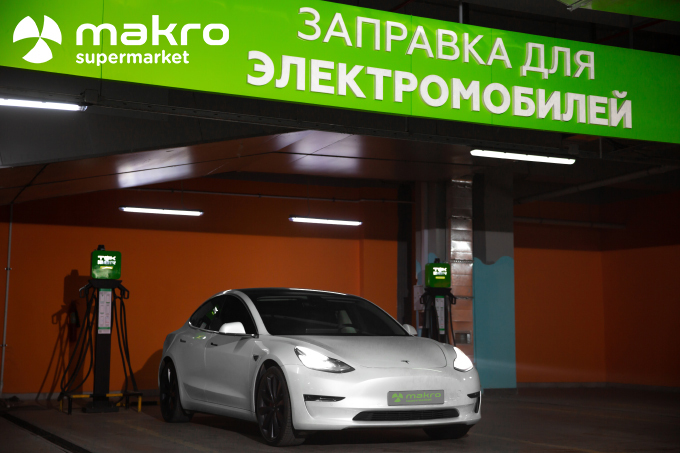 "Makro" capture of the first stage of the electric vehicles charging stations network in Uzbekistan
Charging station data is expected per charge in both China and Europe. And in the Tok Bor app, you can always find out the location of electric vehicles charging stations, as well as the availability of the necessary ports.
The "Makro" supermarket chain, together with Tok Bor, has implemented a major project to introduce electric vehicle charging stations in Uzbekistan.
In addition to a number of complexes in Tashkent, many other cities of Uzbekistan were found at the stations.
The data on charging stations are designed for the simultaneous charging of Chinese electric cars, which are prevalent in Uzbekistan, as well as in Europe. Thanks to the game of adapters (adapters), any electric car can be charged at these stations, regardless of the country of origin.
The station has two connectors with a six-meter cable, which helps to conveniently charge an electric car, no matter how it is parked.
The maximum output power is 22 kW at the connector. The final power when charging at the station consumes a current that depends on the charger built into the electric vehicle. For example, most mainstream cars with this charging can take 7 kW, and European electric cars can take 11 kW already, while the flagship Tesla S model is able to swallow all 22 kW. Most are loaded according to the GB/T AC (China) standard.
In the Tok Bor application, available in the Apple Store and Play Market, you can always find out the location of electric vehicle charging stations in Uzbekistan, check the availability of the necessary ports with the employment/free status. Also, the system is fully automated: the charging process, payment, reporting is available in the application and the presence of specialized personnel is not detected.
To date, 14 points have been found, 10 places in the parking lots of Makro supermarkets in Tashkent, the rest are the front branches of networks in Samarkand, Kokand, Namangan. There were made 1078 connections from July to November. For the entire period of waiting for the project, there was consummed - 24,438 kW of electricity.
The project plans include the establishment of a station near the Makro supermarket in Navoi, Andijan, Gulistan, Bukhara. In total, the project has 20 locations in Uzbekistan.
Also, within the framework of the project, the delivery of equipment according to the Type1 standard is expected soon, with the help of which the loading of Hyundai cars is required.

The Tok Bor application can be downloaded on the link.

Link to the article - https://www.spot.uz/ru/2021/12/10/marko-tok-bor/
<< Orqaga